Cricket
---

The Cricket Scoreboard has everything you need for a great scoreboard.
This scoreboard and its remote controls can be used for all types of Cricket.
Whether it's Youth Cricket, Adult Cricket, Minor Leagues or Professional Leagues.
This page shows you what you can do with the official Live Score cricket scoreboards and controls.

---
Scoreboard Elements
Live Score Cricket features the following list of elements that are supported in our scoreboard layouts to provide a full working cricket scoreboard and experience:


Balls and Deliveries
Show all balls and deliveries with amazing styles and templates

Wickets
Control Wickets as well as Run Outs. Also displayed in the current Over
Statistics
Use the integrated Stats logic to show "Bowled Wickets", "Earned Runs" and more...
Inning Layouts
Show perfect individual layouts for Top or Bottom of an Inning
Overs
Configurable Overs for your matches
Batters and Bowlers
Prepare your Roster and show current Batters and Bowlers in your score bug
Run Rates
Show additional information like Run Rates or Required Run Rates
Displays
Independent displays for "Outs" and "Free Hits"
If you want to build custom scoreboards with the Professional Edition, please use the Scoreboard Layout Guidelines for further information about available controls, styles and elements.
---
Available Scoreboards
The Standard Edition of Live Score contains different scoreboard layouts, that provide all features and optional color adjustments.
Scoreboard #1

Scoreboard #2

Scoreboard #3

Scoreboard #4
Custom Scoreboards
You can create your own custom scoreboard layouts and load it into your Live Score software.
If you're using the Standard Edition of Live Score you can load the layout, but it will show that you're using a demo version when going live. Customers with a Professional Edition can use custom scoreboards without limitations.
Please use the Scoreboard Layout Guidelines for further information about available controls, styles and elements.
---
Remote Controls
We're very sorry, but the iOS Remote Controls are not available yet!
---
Built-In Controls
The built-in sport controls are the perfect companion if you don't have an iOS device, or if just want to have a secure control layout, that is not bound to a local network. This type of control triggers all actions directly within your application and makes sure that no wireless interference prevent you from using your scoreboard.
Built-In controls can be operated alone or in combination with your iOS Remote Controls.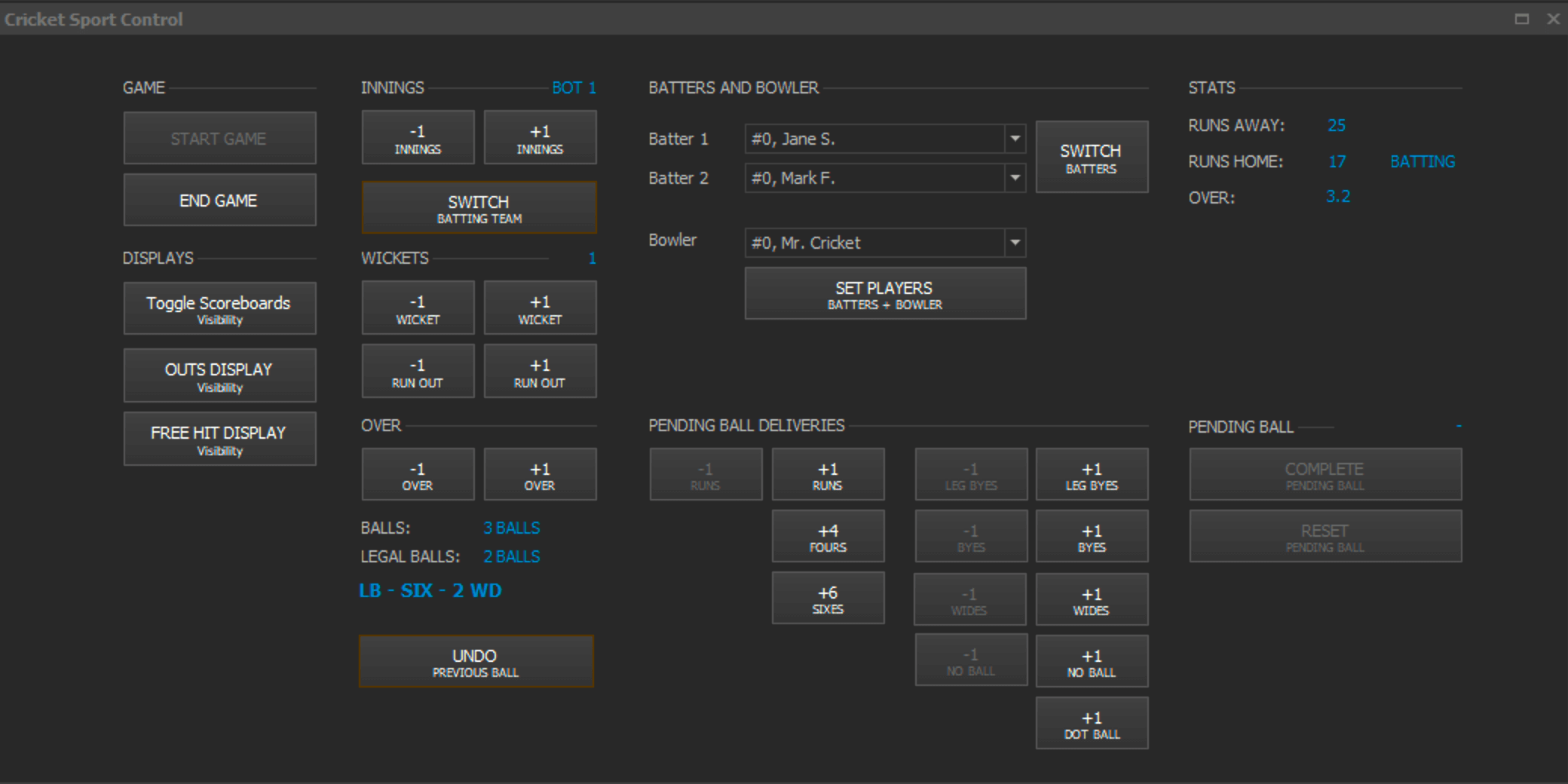 ---
Automatic Control Mode
The Automatic Mode helps you with updating the scoreboard depending on the current situation and step of your sport/game.
It's less work for a better experience!
Here's an overview about Live Score Cricket and its Automatic Control Mode features:

Cricket Automatic Control Features:
Over is completed if max deliveries are reached

---
Web Widgets
Web Widgets can be embedded on any of your websites.
If you enable the FTP feature of Live Score, your Web Widgets will be automatically updated when you use your remote controls to update your scoreboard.


Not yet available - still ready
At present there's no built in Widget to export.
But you can still use other Widgets and slightly adjust them or build your own one, which is most often the requested solution.
If you have any questions, feel free to
contact us
.
Use the FTP Ticker Guide and Web Widget Guide for further information about FTP Ticker, Web Widgets and how to change and customize them.