Soccer
Last Updated:Sep 19, 2020 5:29 pm
---

The Soccer Scoreboard is one of the first sports that have been supported in Live Score.
This scoreboard and its remote controls can be used for all types of Soccer.
Whether it's Youth Soccer, Adult Soccer or any kind of Professional League.

---
Scoreboard Elements
Live Score Soccer features the following list of elements that are supported in our scoreboard layouts to provide a full working soccer scoreboard and experience:


Goals
Scores and goals for each team
Game Clock or Day Time
Increasing and Decreasing Clock. Separately adjustable for regular periods and overtime, or display of current day time.
Aggregate Mode
Enter goals from previous games and display them in your scoreboard.
Halves
2 Halves + 2 Extra for Overtime
Additional Time
Adjust additional times and display them when ready
If you want to build custom scoreboards with the Professional Edition, please use the Scoreboard Layout Guidelines for further information about available controls, styles and elements.
---
Available Scoreboards
UPDATES
The Standard Edition of Live Score contains different scoreboard layouts, that provide all features and optional color adjustments.
Scoreboard #1
This classic black scoreboard layout is ready for almost all broadcast themes. Adjust the colors for your teams as you need them. The Game Clock will be extended with a small clock for additional times.

Scoreboard #2
Scoreboard 2 is a more dominant layout with centered goal dispalys and additional images in the middle area. Game Time and additional time will be displayed in the area above the main layout. Images have a basic size of 45 x 45.

Scoreboard #3
This new scoreboard provides you a modern and flat layout for your streams. It has the perfect integration of the new Aggregate Mode below the main layout. All colors can be changed with the Color Manager. Colored parts on both sides can be individually adjusted to match the team colors.

Scoreboard #4
A brand new scoreboard with flat designs, perfect for center-aligned score bugs or even in the corner. Each team comes with a colorable side bar. Aggregation Mode is placed beneath the scoreboard. The Additional Time display comes with a large font size on the right side of the layout.

Custom Scoreboards
You can create your own custom scoreboard layouts and load it into your Live Score software.
If you're using the Standard Edition of Live Score you can load the layout, but it will show that you're using a demo version when going live. Customers with a Professional Edition can use custom scoreboards without limitations.
Please use the Scoreboard Layout Guidelines for further information about available controls, styles and elements.
---
Remote Controls
Our Remote Controls allow you to change all available elements from your iPad and/or iPhone.
The iPad version contains a scoreboard in the top left corner where you can see all of your data.

The iPhone version uses a Panorama View that can either be swiped or changed with the tab control on top of the screen. Each view of the panorama covers a specific topic, so you have everything on your screen when you're controlling specific parts of your scoreboard.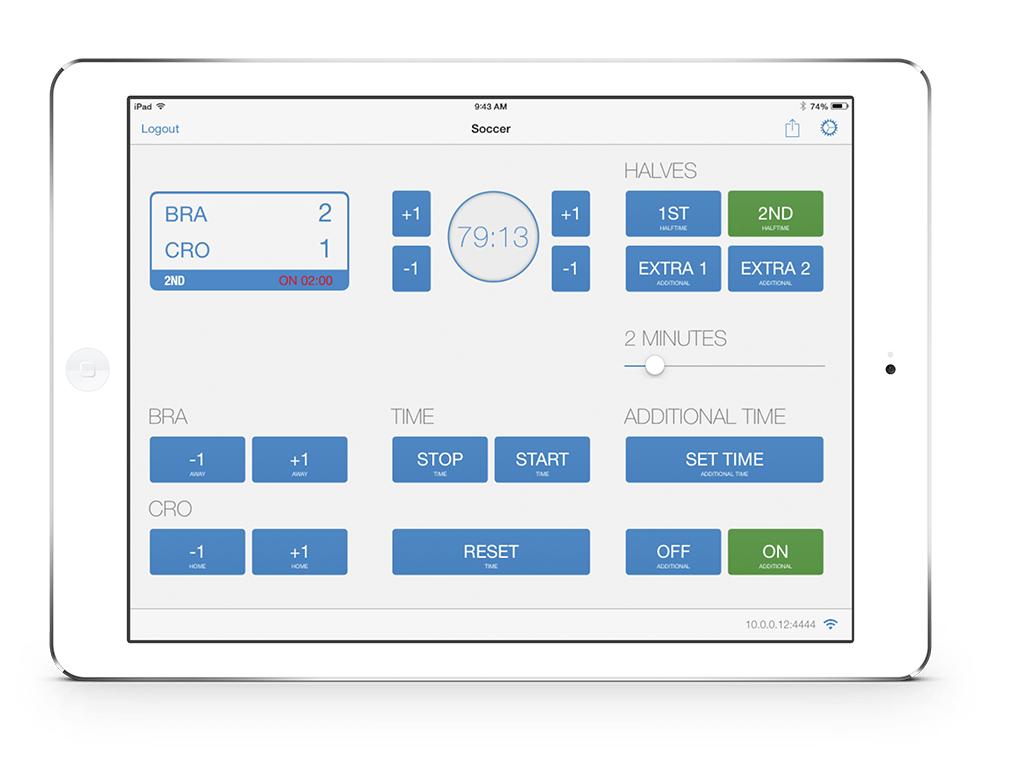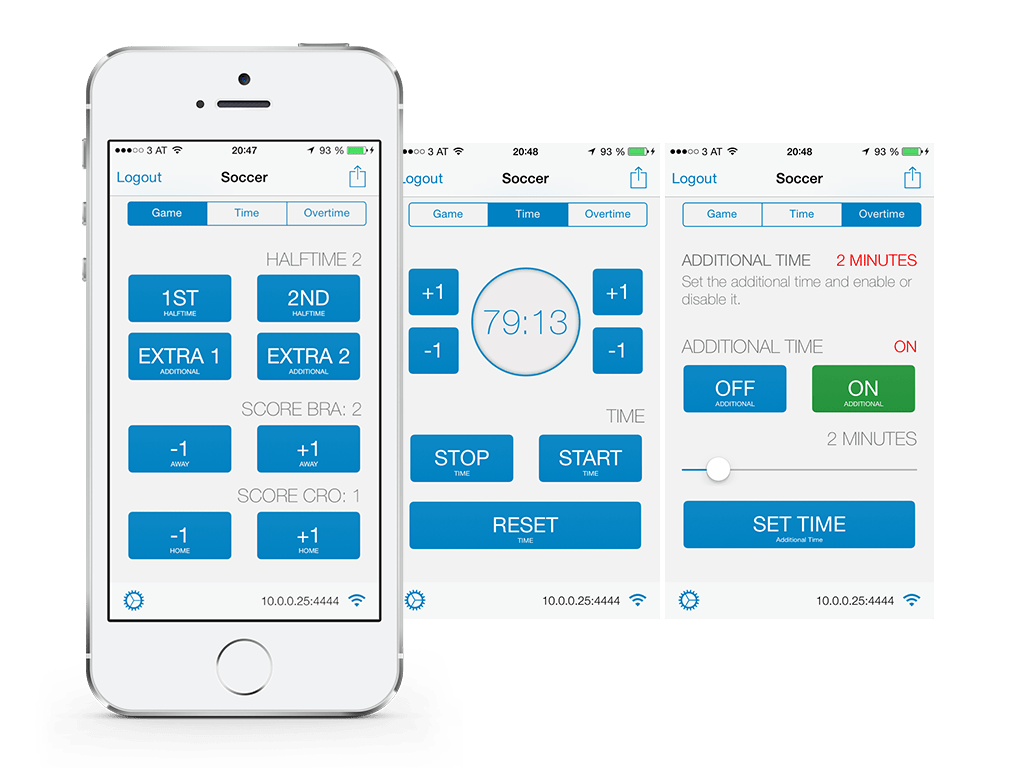 ---
Built-In Controls
The built-in sport controls are the perfect companion if you don't have an iOS device, or if just want to have a secure control layout, that is not bound to a local network. This type of control triggers all actions directly within your application and makes sure that no wireless interference prevent you from using your scoreboard.
Built-In controls can be operated alone or in combination with your iOS Remote Controls.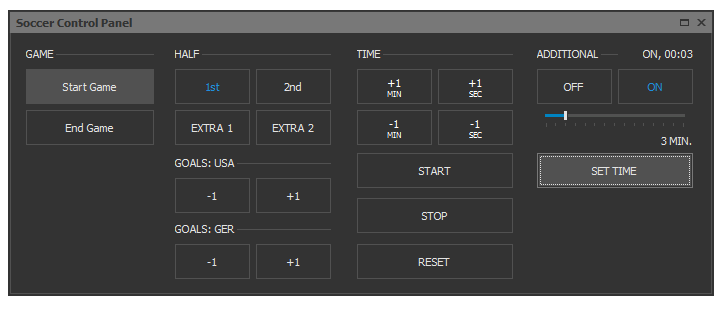 ---
Automatic Control Mode
The Automatic Mode helps you with updating the scoreboard depending on the current situation and step of your sport/game.
It's less work for a better experience!
Here's an overview about Live Score Soccer and its Automatic Control Mode features:

Soccer Automatic Control Features:
Game Time will be set to the beginning time of new half.

---
Web Widgets
Web Widgets can be embedded on any of your websites.
If you enable the FTP feature of Live Score, your Web Widgets will be automatically updated when you use your remote controls to update your scoreboard.

The Standard Web Widget that can be exported from Live Score contains the following data:

WARMUP and FINAL display
GOALS
GAME TIME display
LIVE indicator
Use the FTP Ticker Guide and Web Widget Guide for further information about FTP Ticker, Web Widgets and how to change and customize them.