Tennis
Last Updated:Sep 19, 2020 5:29 pm
---

The Tennis Scoreboard has everything you need for a great scoreboard.
This scoreboard and its remote controls can be used for all types of Tennis.
Whether it's Youth Tennis, Adult Tennis or any kind of Minor League and Professional League.

---
Scoreboard Elements
Live Score Tennis features the following list of elements that are supported in our scoreboard layouts to provide a full working tennis scoreboard and experience:


Points
Love, 15, 30, 40, Deuce + AV
Sets and Games
Display number of won sets and games
Tie-Break Controls
Incrementing points (1,2,3,4,...) for Tie-Break games
Match Title
Display your tournament and championship
Match Time
Show the current match time to your viewers
Point Score Mode
Play in a different mode that increments scores by +1. Use it for hobby tournaments or even Squash.
Game Modes
Best-of-3 and Best-of-5 Modes
Automatic Serve
Indicator which player serves including automatic serve switching.
Player Ranking
Easy display of current rankings of your players
Final-Set Tiebreaker
Individual tiebreaker settings for your final set for complete flexibility
Tie-Breaks, Breakpoints, Set Point and Match Point
Additional Displays for Tie-Breaks, Breakpoints, Set Point and Match Point
If you want to build custom scoreboards with the Professional Edition, please use the Scoreboard Layout Guidelines for further information about available controls, styles and elements.
---
Available Scoreboards
The Standard Edition of Live Score contains different scoreboard layouts, that provide all features and optional color adjustments.
Scoreboard #1
Scoreboard 1 is based on a modern and glossy style, enhanced with some shadows that give you the perfect overlay effect. It contains up to 5 Sets next to the point displays. The Set containers will grow/be-visible with your match progress. Additional overlays for Tie-Break and Breakpoints are located above the scoreboard.

Scoreboard #2
This scoreboard is a more classic and flat layout with up to 5 Set containers next to the point displays. Additional overlays for Tie-Break and Breakpoint are displayed beneath the scoreboard, so it's a perfect choice for a top-left overlay in your broadcast.

Scoreboard #3
Scoreboard #3 is perfect on a LED wall next to your court. It has support for player images, best-of-3 mode, points, serve indicators, as well as Breakpoint and Tie-Break displays.

Scoreboard #4
This scoreboard is definitely made for doubles. It has a long and wide area that should fit for all your player names and teams. Display overlays for Tie-Break and Breakpoints. Show either best-of-3 or best-of-5 games. And last but not least, points for both teams.

Custom Scoreboards
You can create your own custom scoreboard layouts and load it into your Live Score software.
If you're using the Standard Edition of Live Score you can load the layout, but it will show that you're using a demo version when going live. Customers with a Professional Edition can use custom scoreboards without limitations.
Please use the Scoreboard Layout Guidelines for further information about available controls, styles and elements.
---
Remote Controls
Our Remote Controls allow you to change all available elements from your iPad and/or iPhone.
The iPad version contains a scoreboard in the top left corner where you can see all of your data.

The iPhone version uses a Panorama View that can either be swiped or changed with the tab control on top of the screen. Each view of the panorama covers a specific topic, so you have everything on your screen when you're controlling specific parts of your scoreboard.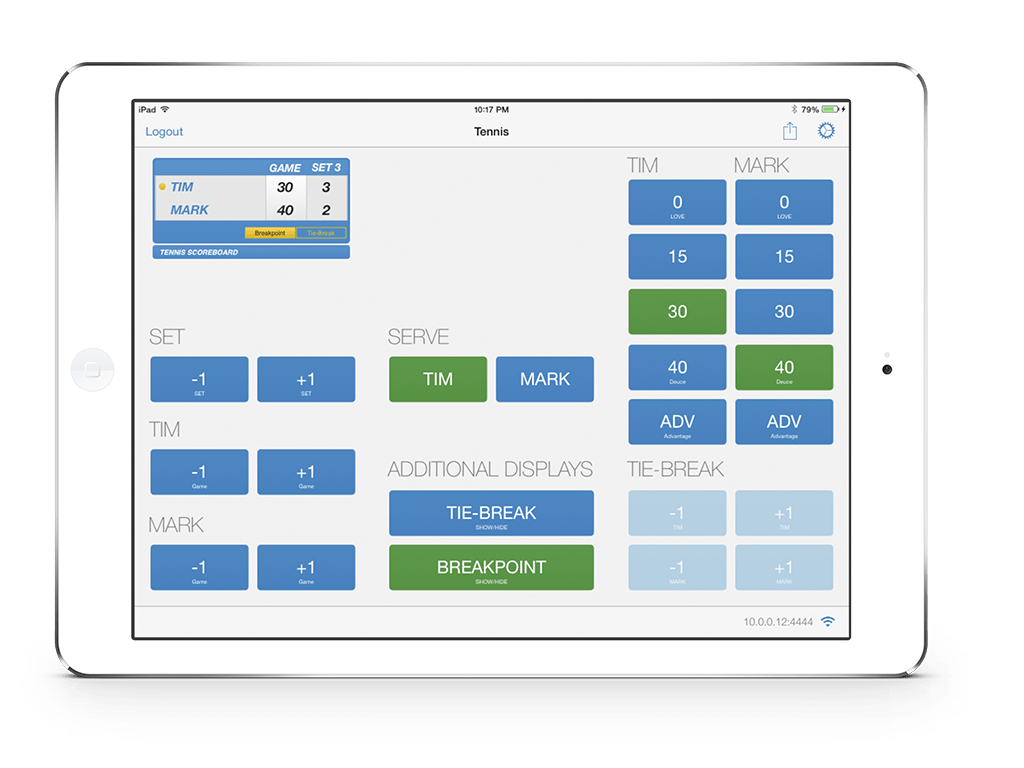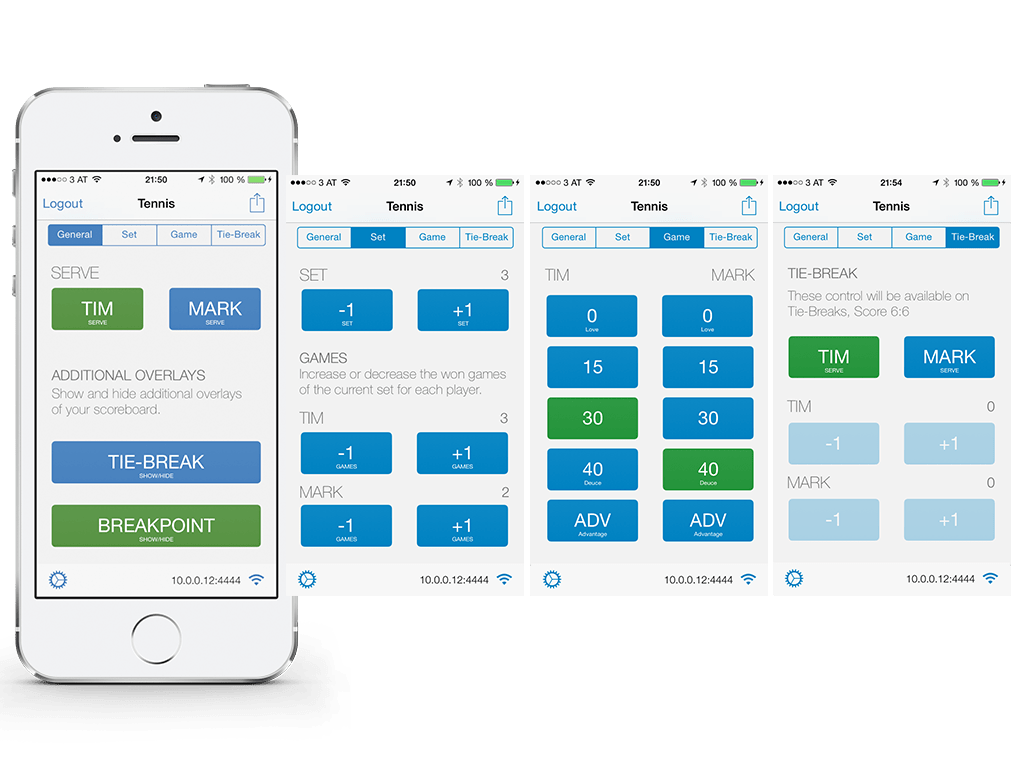 ---
Built-In Controls
The built-in sport controls are the perfect companion if you don't have an iOS device, or if just want to have a secure control layout, that is not bound to a local network. This type of control triggers all actions directly within your application and makes sure that no wireless interference prevent you from using your scoreboard.
Built-In controls can be operated alone or in combination with your iOS Remote Controls.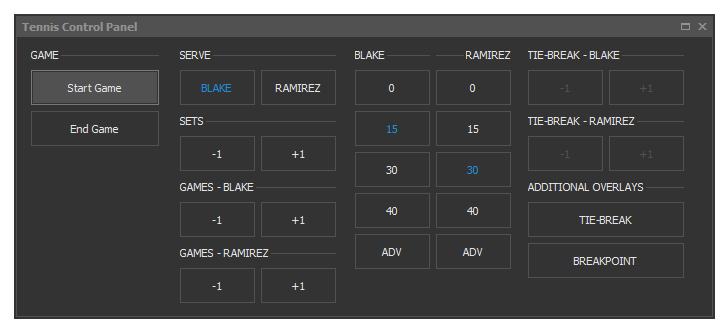 ---
Automatic Control Mode
The Automatic Mode helps you with updating the scoreboard depending on the current situation and step of your sport/game.
It's less work for a better experience!
Here's an overview about Live Score Tennis and its Automatic Control Mode features:

Tennis Automatic Control Features:
Points of current game will be reset.

Points of current game will be reset.

---
Web Widgets
Web Widgets can be embedded on any of your websites.
If you enable the FTP feature of Live Score, your Web Widgets will be automatically updated when you use your remote controls to update your scoreboard.

The Standard Web Widget that can be exported from Live Score contains the following data:

WARMUP and FINAL display
SETS, GAMES and POINTS
SERVE display
LIVE indicator
Use the FTP Ticker Guide and Web Widget Guide for further information about FTP Ticker, Web Widgets and how to change and customize them.