SETUP
INPUTS
OUTPUTS
SPORTS
ADVANCED
Audio Library
---
With Live Score 1.8.7 and later you can automate the audio experience of your venue audience.
Connect your Live Score computer to your venue audio system and make use of the integrated buzzer and audio library for certain events of your game.

The Audio Library Settings can be found in Edit > Settings.
WATCH THE VIDEO
---
Too lazy to read?!
Watch the video on YouTube and get everything explained, from setups to configurations, game preparations and more.
Visit our
YouTube channel
for more videos on how to use Live Score.
Audio Settings
---
Open the settings dialog and navigate to the Audio Library.
Here you can manage and preview embedded and custom audio files.
Use the speaker buttons next to your sound for previews.

For a huge audio library, use the grid to sort, group or filter all your sound files.

Audio Interface
Since version 1.8.10 of Live Score, you can select an additional Audio Interface that will be used to output your sounds. This can be the built-in speaker system of your computer, or an external audio interface which is connected to your venue PA system.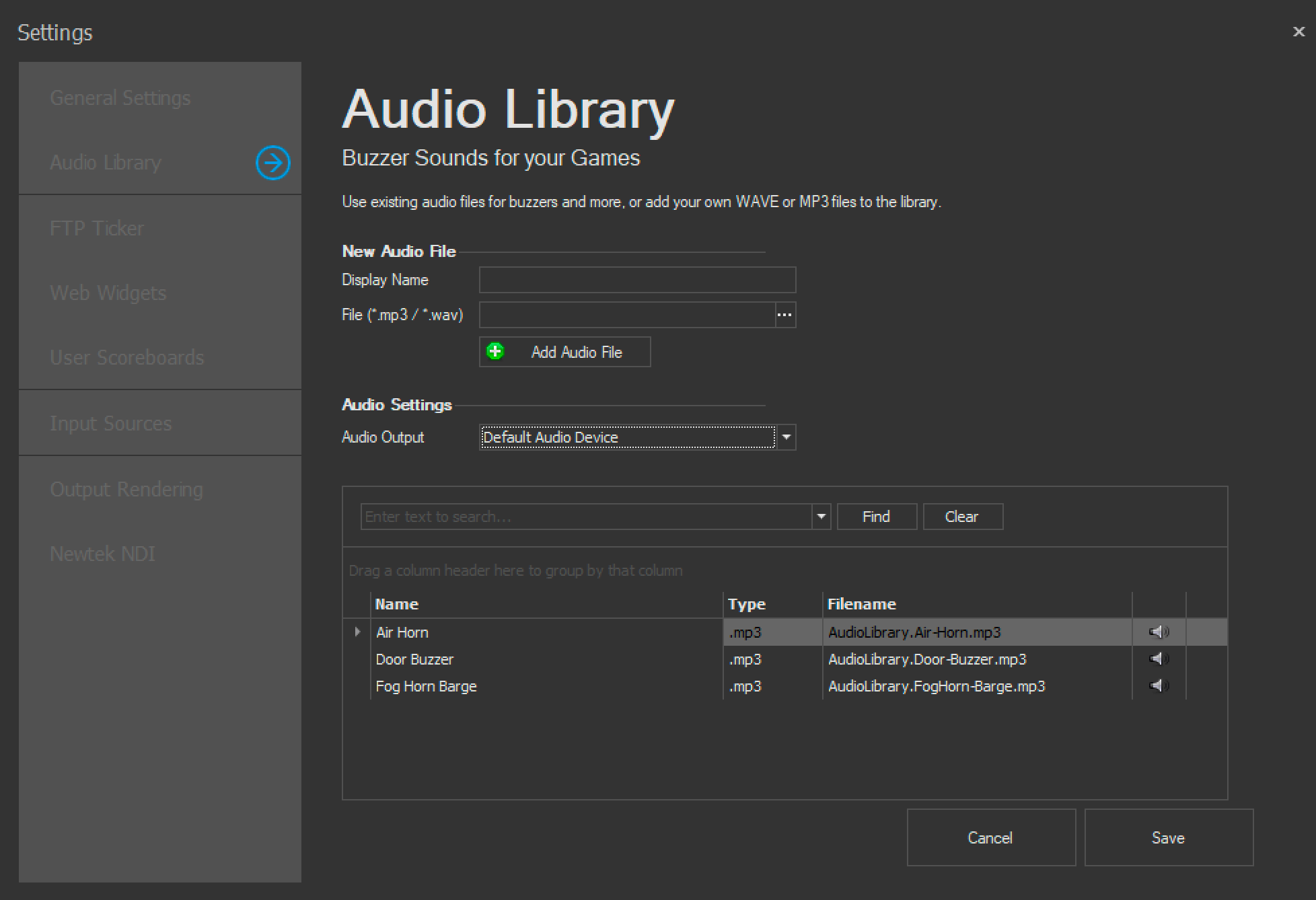 Custom Audio Files
---
Use the section above the grid to add your own .mp3 or .wav files and use them as buzzer sounds in your games.

All your custom files can of course be removed from the library by using the red delete icon next to it.
Your original files will not be deleted!
Buzzer Setup
---
It's finally time to use your sounds in your game.
Every sport with support for audio sounds comes with a special setting for the certain event. These settings can be found in the
Game Data
dialog of your sport.
If you want to use a buzzer sound, simply select your audio file for
Buzzer
and
Submit
your game data settings. When you start your game, and the time runs out (or reaches the maximum level), Live Score will automatically play the selected sound through your computer audio system.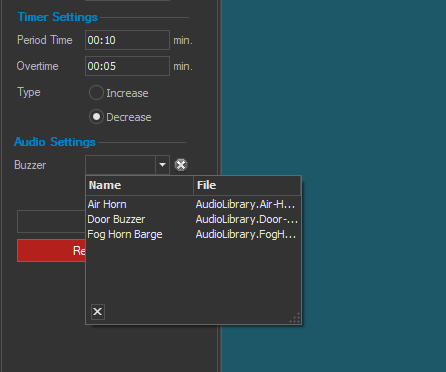 Audio Buzzers are currently available for Hockey, Basketball, Handball and Multi-Sport.