SETUP
INPUTS
OUTPUTS
SPORTS
ADVANCED
Connection Doctor
---
Sometimes a remote control connection might not work as expected.
Finding problems can be hard, so we integrated the new connection doctor tool.
This feature can be used to debug connection problems on your iOS device.
It gives you more insight about what is wrong with your network setup or your iOS remote control setup.
Start Diagnostics
---
Open the Connection Doctor from your Login-Screen on your iOS device.
The top of the new screen displays your current iOS device setup.
The bottom of the screen shows the results of certain settings of your Live Score setup.


Start the diagnostics by pressing Start Diagnostics.
The circles at the bottom should now start to fade in and out.
When the diagnostics process has finished, the circles will turn red or green.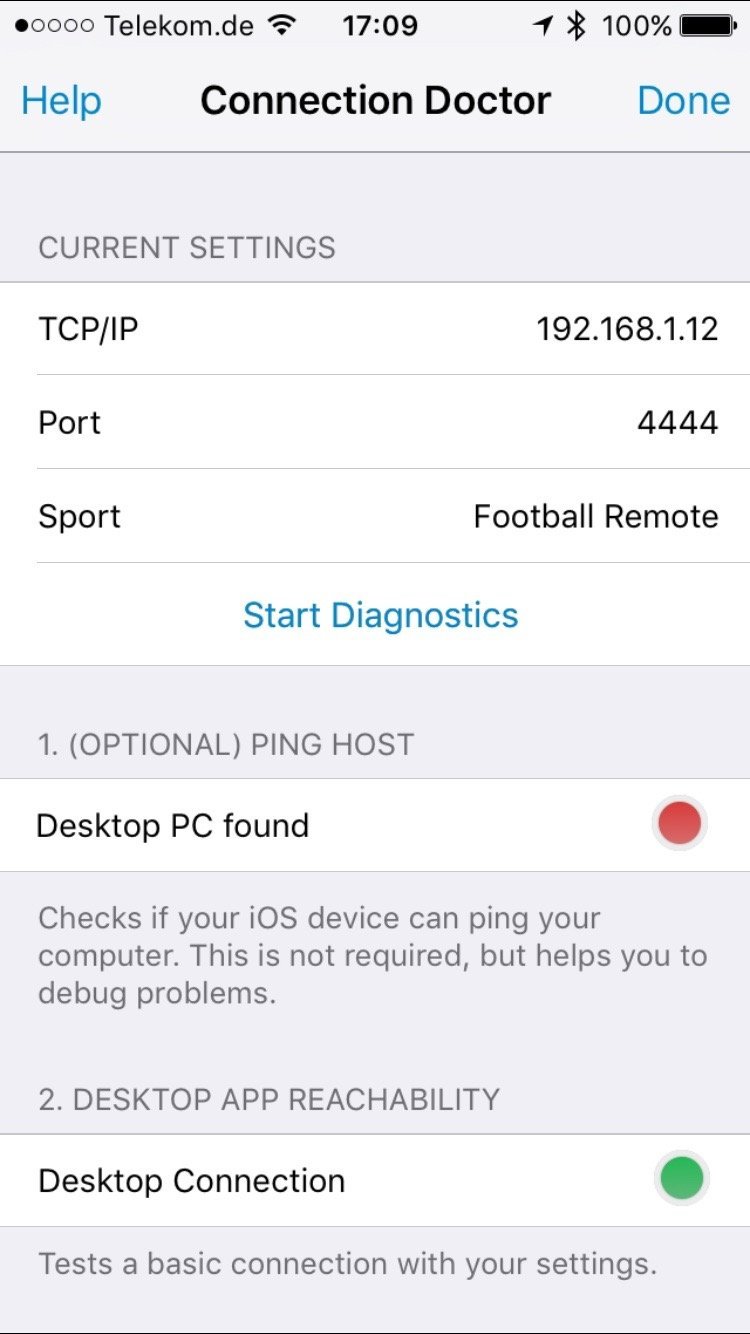 Diagnostics Results
---
When the process has finished, your circles will turn into a solid color and stop fading in and out.
Green means the test has been successfully finished.
Red indicates problems for the corresponding section.
Black circles, are section that haven't been started due to other problems.

Desktop PC found (optional)
This might not be required for a successful connection.
It tests if your iOS device can reach your desktop pc by using a standard ping command. If you're desktop connection fails, and your pc is not reachable using ping, then your iOS device can't find and access your computer in your network. In that case, please check your wifi settings and your local network setup.

Desktop Connection
This is a real connection to your Live Score desktop application. If this section fails, you're Live Score Service is not started. Please use the blue "start" button in the top right corner of Live Score to enable incoming connections.

Matching Password
The Live Score connection password in your iOS app is wrong.

Matching Sport
The selected sport in your iOS app is not the current sport of your desktop application.


Please note, if you still have problems with your connection, please see the instructions on the
FAQ page
.