SETUP
INPUTS
OUTPUTS
SPORTS
ADVANCED
Game Data
---
The Game Data sections helps you to manage all relevant data for your current or next game. If you stick with your scoreboard layout, this might be the only section that you have to prepare for an upcoming game.
Setup Team Data
---
In this section, you can set your current team names and their images. Enter your names, set images and click on "Submit" to apply the current settings. Remember, images only affect scoreboards that support dynamic team images!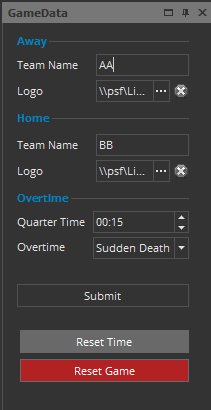 Additional Game Settings
---
Depending on your current sport, you can change additional settings of your game, like overtime modes or quarter times. These settings affect the way your scoreboard and Live Score reacts to these situations. Your changes will be applied after clicking on "Submit".
Crash Backup System
---
The best applications out there crash - so there's no guarantee that Live Score doesn't.
But we thought about that case and introduced the
Crash Backup System
!
Every play you enter is automatically saved. So if you relaunch the Application after a crash, it automatically loads the last state of your game and you can start right from where you left.