SETUP
INPUTS
OUTPUTS
SPORTS
ADVANCED
Server Settings
---
The Live Score desktop application acts as a server for your remote controls.
Server Settings help you to manage and configure your client connections. The sidebar panel is located in the top left corner of Live Score.
Configure Connections
---
The Connection section contains everything you need to connect clients to your desktop application. You can see your TCP/IP, or enter a port and your password for the secure connection.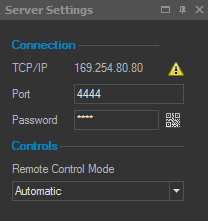 TCP/IP
The TCP/IP address is the local network address of your computer.
Enter this in your app to tell your device where it should connect to.
Port
The port is some kind of gate or door, the client uses to connect to Live Score on your computer. You can use a random port between 1 and 65535, but keep in mind that some ports are used from other software on your computer.
Password
Like you, we don't want anyone who has a Live Score app to connect to our desktop application. Use password to secure you're incoming connection and only allowed remote controls from your team members.
QR Code - Quick Connect
With the Quick Connect feature, you can easily connect your iOS devices without entering data manually.
Click on the QR Code icon and a new QR window will be opened.
Now click on the camera icon in your iOS apps (login screen) and scan the code.
You will be automatically connected to your desktop application if you have started it by clicking on the blue start button.
Working with multiple IP Addresses
---
If you have a computer with
multiple IP addresses
, you will find a warning icon next to your displayed address. It might be the case that the displayed address isn't the one that actually works. Move your mouse over the warning icon and you'll see a tooltip which shows you your additional TCP/IP addresses.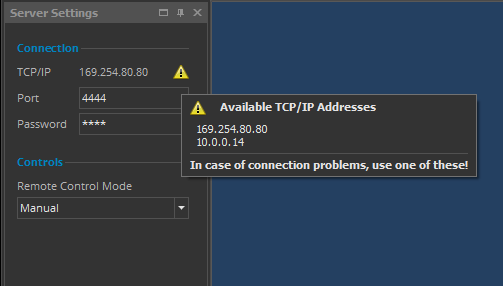 Control Mode
---
The Control Mode defines how Live Score reacts to your commands.
You can enable a
manual
or
automatic
control mode.
Manual
If you enable the manual mode, Live Score only displays what you send to it. Use this mode if you want to have a full control on what is displayed or not. But keep in mind that you need reset some values on your own, e.g. strikes/balls/outs when switching to the next inning.
Automatic
This mode forces Live Score to react on the current situation in the game and automatically stop times, reset values like strikes and balls, and so on. Use this intelligent if you want Live Score to keep an eye on your scoreboard and help you with your job.