SETUP
INPUTS
OUTPUTS
SPORTS
ADVANCED
Color Manager
---
With Live Score 1.8.12 and above, every layout comes with its own colors.
Some layouts might only have a few different options to change colors, while others may have lots of different parts that can be changed individually.
Every color is a WPF Color Resource that is being used within the layout.
To have your color being displayed in the Color Manager, the resource needs to start with the name
"Color*"
, e.g. "ColorBasesON", "ColorMainBackground", ...
The Color Manager is there to give you access to modify the colors of a single layout. It can be opened from the
Layout Settings
panel.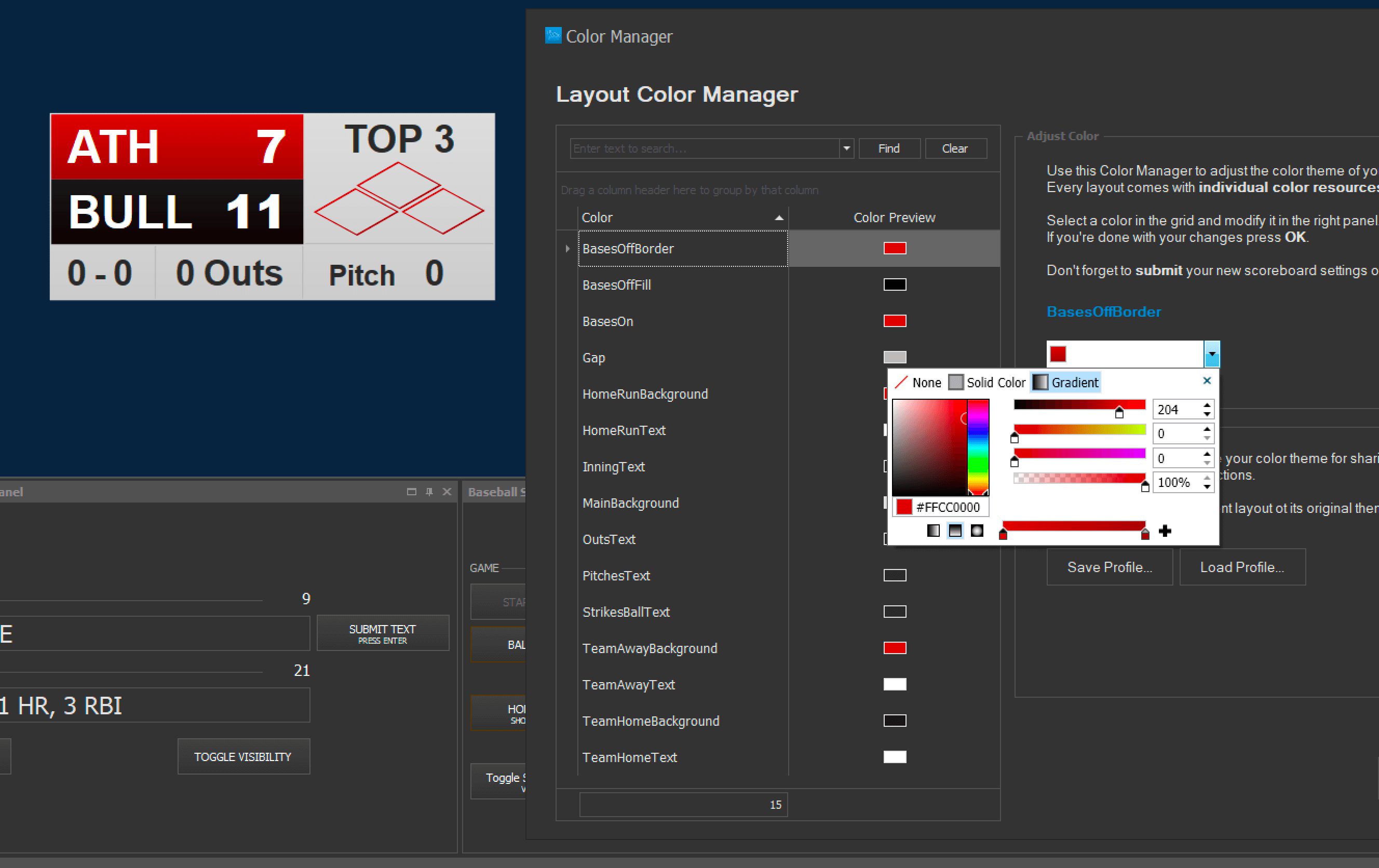 WATCH THE VIDEO
---
Too lazy to read?!
Watch the video on YouTube and learn how to adjust your layout colors and save color profiles.
Visit our
YouTube channel
for more videos on how to use Live Score.
Changing Colors
---
After opening the color manager, you might want to move the window a bit, so you can see the layout in the background.
Now it's time to get familiar with the colors of this layout.
You can use the filter and search functions to search for specific elements.
If you have found your color, just click on it, and it will be loaded in the right detail area. Click on the dropdown to open the actual Color Editor.
Here you can decide how your color should look like. This can either be a transparent color (None), a simple solid color, or even a gradient color with different gradient steps and directions.
When you change a color, the layout in the main area will be updated automatically, so you can have an instant preview how it will look like.
After clicking on Save, please keep in mind, that you also need to SUBMIT your changes in the layout settings, to have your real layout updated as expected.
Color Profiles
---
With the Live Score Color Profile feature, you can save your prepared color settings into a single file and either reuse it or share it with friends.

It's the perfect feature if you want to save and backup predefined color settings.
And if you use Live Score for a particular team, why not create ready-to-use color styles for every team combination in your league!?

Create your color styles and click on "Save Profile".
To load your saved profiles, click on "Load Profile" and open the file that contains your styles.


Reset Colors
---
This feature will reload all colors from the default settings of the current layout file.
Use it if you want to start from scratch.